HIPAA compliance
Take the guesswork out of protecting your patients' information with AOAExcel®'s endorsed business partner, Compliancy Group.
Compliancy Group is optometry's choice for HIPAA compliance. Its web-based compliance solution allows you and your practice to implement a total HIPAA compliance program with ongoing support from its team of expert compliance coaches. Compliancy Group offers AOA members free HIPAA education through monthly webinars and resources, covering a variety of topics to help you protect your practice.
Simplify compliance & move forward with confidence
You and your staff will recieve support to achieve, illustrate and maintain compliance, including employee training, Security Risk Assessments, Business Associate Agreement templates and everything else you need for HIPAA compliance. Once you've achieved compliance, you can showcase your status by displaying Compliancy Group's HIPAA Seal of Compliance on your practice's website.
No client has ever failed an OCR/CMS audit.
Protect your practice and reduce risk.
Have peace of mind with HIPAA compliance.
Focus on your patients instead of on HIPAA.
Earn the HIPAA Seal of Compliance.
Download your free HIPAA checklist.
Is your practice HIPAA compliant? Use this complimentary HIPAA checklist to determine which steps need to be taken to ensure your practice is safe.
Notice of Privacy Practice Forms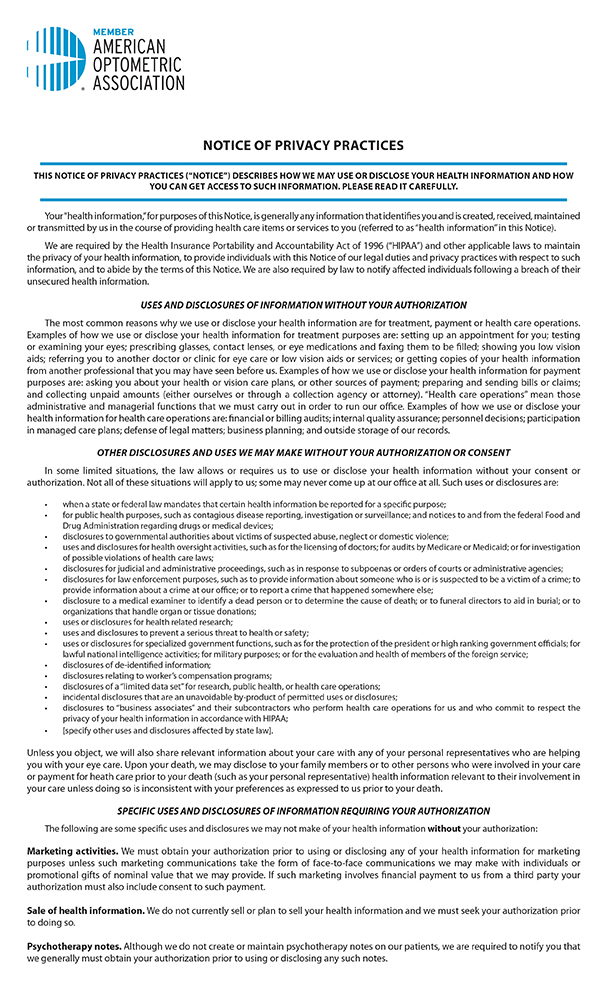 Legal size, two-sided forms, available personalization. Order now.
Related News
---
Even if you're choosing to disengage, today's politics have a way of finding you. What are the ground rules for approaching political debates in the practice?
Photophobia is complex and experienced by approximately 50% of patients with TBI.
Despite its name, the National Association of Optometrists and Opticians is a "front" for large optical retailers, working against the interests of doctors of optometry and comprehensive vision care for patients, the AOA contends in a Jan. 5 letter sent to the Internal Revenue Service.