HIPAA compliance
Take the guesswork out of protecting your patients' information with AOAExcel®'s endorsed business partner, Compliancy Group.
Compliancy Group is optometry's choice for HIPAA compliance. Its web-based compliance solution allows you and your practice to implement a total HIPAA compliance program with ongoing support from its team of expert compliance coaches. Compliancy Group offers AOA members free HIPAA education through monthly webinars and resources, covering a variety of topics to help you protect your practice.
Simplify compliance & move forward with confidence
You and your staff will recieve support to achieve, illustrate and maintain compliance, including employee training, Security Risk Assessments, Business Associate Agreement templates and everything else you need for HIPAA compliance. Once you've achieved compliance, you can showcase your status by displaying Compliancy Group's HIPAA Seal of Compliance on your practice's website.
No client has ever failed an OCR/CMS audit.
Protect your practice and reduce risk.
Have peace of mind with HIPAA compliance.
Focus on your patients instead of on HIPAA.
Earn the HIPAA Seal of Compliance.
Download your free HIPAA checklist.
Is your practice HIPAA compliant? Use this complimentary HIPAA checklist to determine which steps need to be taken to ensure your practice is safe.
Notice of Privacy Practice Forms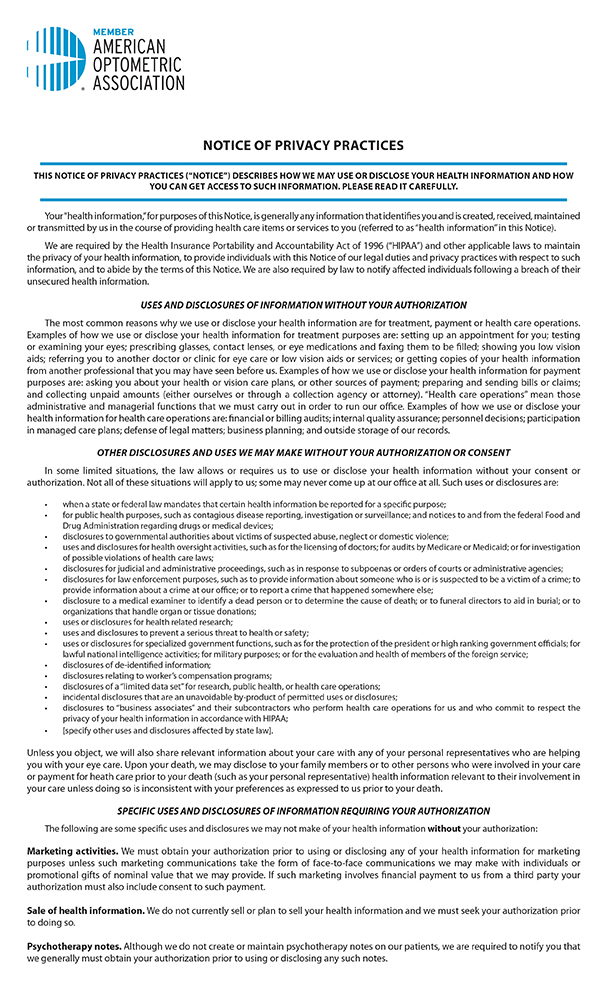 Legal size, two-sided forms, available personalization. Order now.
Related News
---
COVID-19 lockdowns took their toll on optometry practices, but the AOA's advocacy and guidance in accessing federal relief measures helped the profession recover over a billion dollars.
Optometry's Fund for Disaster Relief stands ready to assist doctors on their path to recovery following an historic 2020 wildfire season in the western U.S.
James A. Boucher, O.D., 83, founded his practice in Laramie, Wyoming, and served the community for five decades. Dr. Boucher specialized in cornea and contact lenses practice.